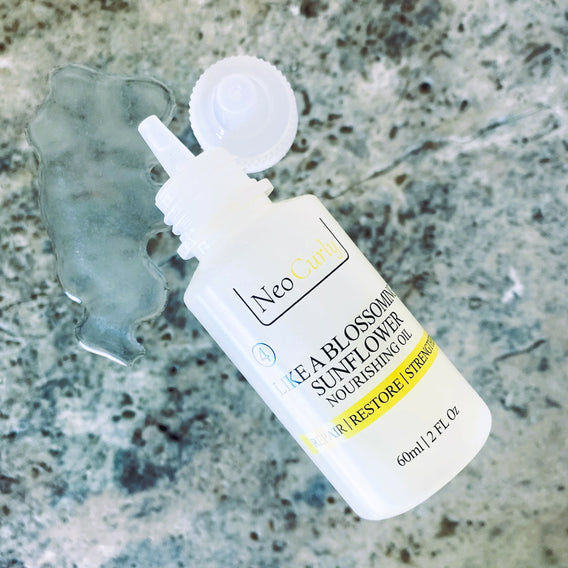 Achieved Results!
✓ 94% Nourishes hair & scalp
✓ 91% Defined & enhanced curl pattern
✓ 96% Combats dryness, frizz & flyaways
✓ 94% Radiant shine, no grease, no weight
✓ 96% Left curls with a soft, touchable feel
Based on a 3rd-party consumer study**
Deep hydration

Immerse your curls in a world of moisture with our Nourishing Oil, a carefully crafted blend designed for intense hydration. Experience the transformative power of deep hydration as this oil prevents dryness, leaving your curls well-nourished and healthy. Revel in the beauty of curls that are not only defined but also luxuriously hydrated, ensuring a vibrant and resilient curl pattern. Our Nourishing Oil is the key to unlocking the secret of deep hydration, ensuring your curls remain soft, supple, and beautifully moisturized. Say goodbye to dryness and hello to a world of radiant, well-hydrated curls.

Frizz control

Our Nourishing Oil is a frizz-fighting powerhouse, designed to tame and control unruly curls. Infused with a blend of nourishing oils, it creates a protective barrier, sealing in moisture and smoothing the hair cuticle. The result is curls that are not only more defined but also effortlessly manageable, providing a sleek and polished finish. Experience the transformative power of our Nourishing Oil as it combats frizz, giving you the confidence to flaunt beautifully controlled curls that shine with vitality.

Enhanced shine and definition

Elevate your curls to new heights with our Nourishing Oil, a formula crafted to enhance shine and define your natural curl pattern. Packed with nourishing ingredients, this oil imparts a healthy, radiant glow to your curls. Experience the beauty of well-defined and vibrant curls that captivate with every movement. Our Nourishing Oil is your secret weapon for achieving that coveted combination of luminous shine and natural curl definition, ensuring your curls stand out with brilliance and vitality. Say goodbye to dullness and embrace a radiant, well-defined curl showcase.

When to use curly hair Nourishing Oil

After Washing: Apply oil to damp hair after washing. This helps seal in moisture and enhances the absorption of the oil.
Before Styling: Use oil before styling to add moisture, reduce frizz, and provide a smooth base for your chosen hairstyle.
Midweek Refresh: Apply oil to refresh and revive your curls midweek. This can help combat dryness and maintain curl definition.
Scalp Massage: If the oil is suitable for the scalp, use it for a relaxing scalp massage. This can nourish the scalp and promote overall hair health.
Protective Styles: Apply oil before putting your hair in protective styles like braids or twists. It helps keep your hair moisturized and reduces friction.
As a Finishing Touch: Use a small amount of oil as a finishing touch to add shine and control flyaways after styling.
Before Bed: Apply oil before bedtime for an overnight treatment. This allows the oil to deeply penetrate and nourish your hair while you sleep.
In Dry Environments: Use oil in dry or arid climates to combat moisture loss and keep your curls hydrated.
On Sun-Exposed Hair: Apply oil to protect your curls from the drying effects of the sun. This is especially important during prolonged sun exposure.
During Harsh Weather: In harsh weather conditions like extreme cold or heat, use oil to shield your curls from environmental stressors.
Adjust your usage based on factors like climate, hair texture, and personal preferences
INGREDIENT DECK
Glycine Soja (Soybean) Oil, Beeswax, Helianthus Annuus (Sunflower) Seed Oil, Simmondsia Chinensis (Jojoba) Seed Oil, Argania Spinsosa (Argan) Kernel Oil, Persea Gratissima (Avocado) Oil, Fragrance, Tocopherol, Tetrahexyldecyl Ascorbate.
1

PRODUCT SCENT

Naturally scented with fresh petals, flowers, leaves, seeds, barks and rinds, our scents are purely and naturally of the earth. No harsh chemicals, synthetics or artificial fragrances to be found.

2

WHAT'S IN IT?

Infused with a harmonious blend of natural ingredients including Beeswax, Jojoba, Argan, Sunflower and Avocado - this oil is designed to cater to the unique needs of curly hair, delivering deep hydration, definition, and a radiant finish.

3

WHEN TO USE NOURISHING OIL

To nourish and strengthen, leaving your curls soft, shiny, and resilient. Combat frizz, promote a healthy scalp, and enhance your natural curl pattern. Elevate your curly hair care routine with this enriching oil for a radiant, well-nourished locs